By Slant
See Top Ranked TVs
Samsung The Terrace Outdoor 2020 vs Hisense R6090G Series TVs
Analysis:
The Samsung The Terrace 75" makes for a good, if unremarkable, TV for people with a $4,500 budget.
The Hisense R6090G 43", however, is merely mediocre at its $260 asking price, when compared to similarly priced products, and won't satisfy the needs of most people.
In either case, we suggest that you first take a look at some other options at the $4,500 and $220 price points before committing to one of these - it's likely that you'll be able to find some better alternatives.
If you're still interested in learning more about the Samsung The Terrace 75" and Hisense R6090G 43", however, we wrote a summary of what we could find about them:
As a last step, we wanted to do a head-to-head Samsung The Terrace 75" vs. Hisense R6090G 43" comparison of their review performance but, unfortunately, weren't able to find any review ratings on either product.
Comparison of expert ratings
Highly Recommended
Recommended
Mentioned
Samsung The Terrace 75"
$6,497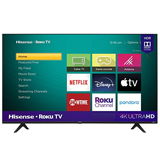 Hisense R6090G 43"
$260
Samsung The Terrace 75"
$6,497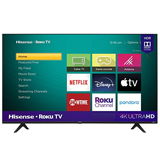 Key things to consider when buying TV
Our super simple Buying Guide
TVs are the center of any home multimedia setup. They're used for watching shows, movies, sports, gaming, and displaying streamed content from other smart devices.
Because each use case has slightly different needs, manufacturers produce TVs that aim at different parts of the market.
Gaming TVs are designed for console and PC gamers that want to play on large screens. Good gaming TVs usually have low input lag and good motion control. High-end models typically come with some additional premium features, like variable refresh rate technology. A good gaming TV tends to cost more than a regular, everyday TV.
Sports TVs are focused on dealing with fast, highly dynamic content. They typically have high refresh rate panels and features that further improve the clarity of the image. Good overall uniformity is also very important because it makes large sports fields look more natural.
Home theater TVs offer the best image quality when placed in a dark environment. Such TVs usually reproduce good blacks and have very high contrast.
Regular TVs do an okay job in nearly every use case. They are usually more affordable because they lack any specialized features.
The prices of TVs vary wildly, with the cheapest options starting around $150 and the most expensive ones reaching tens of thousands of dollars. More expensive TVs usually have larger panels that reproduce better images and come with a wider feature set. People who only occasionally watch TV and don't plan on doing any serious gaming might find entry-level TVs sufficient.
Those looking for a decent home-theater TV will need to pay slightly more and get a mid-range VA panel that will look great in a dark room. People who are interested in watching sports or gaming might want to invest a bit more and buy a high refresh rate TVs that combines great image quality, high responsiveness, low lag, and some motion enhancing features. At the high-end, TVs combine stunning image quality, high responsiveness, and excellent motion handling with cutting-edge HDR technology for the best possible viewing experience.
Even though the most popular series of TVs get refreshed annually, there's no real reason for a regular customer to buy a new TV each year. A good mid-range TV is expected to stay competitive for at least 2-3 years from the moment it's introduced to the market.
TVs have warranty periods ranging from 1 to 2 years, depending on the manufacturer.
These are the largest TV manufacturers on the market:
Samsung is a long-time TV manufacturer that offers a wide variety of mid-range and high-end LED TVs. The company mostly makes VA TVs that offer good performance when used as home theater TVs.
LG produces TVs at all budgets. However, their most notable TVs are their high-end OLED models that arguably offer the best image quality on the market.
Sony is a reputable manufacturer of high-end TVs that are known for their great overall motion handling.
TCL is one of the best manufacturers of entry-level TVs. TCL's budget-friendly models tend to offer superior image quality and a broader feature set than its direct competitors.
Vizio specializes in mid-range TVs but also offers some high-end models. This brand is known for manufacturing affordable home theater TVs.
Hisense recently became a notable player in the TV market, thanks to its products garnering a good reputation among customers. The company focuses on high-quality entry-level and mid-range TVs.
Here are some of the most important specs to consider when buying a TV:
Screen size (inches) - To ensure the best balance between the quality of the viewing experience and the price of the TV, it's important to pick a panel of the optimal size.

There are two factors that play a role in choosing the correct size - the distance from the screen to the viewer and the resolution of the TV. For the best overall user experience, the sitting distance should be large enough so that the viewer can't discern individual pixels, and the TV should be small enough so that there's no need to move their head to be able to view the entire screen.

Luckily, there are various display size calculators available online that suggest the correct screen size based on the chosen resolution and viewing distance.

The screen size that manufacturers list in their spec sheets corresponds to the diagonal length of the screen and is expressed in inches.

4K resolution - 4K resolution enables displays to produce sharper and more detailed images than conventional HD and Full HD panels. Because 4K resolution has four times as many pixels as Full HD, 4K panels are able to display up to four times sharper and more detailed images than what was previously possible. Another name for 4K is UHD (Ultra High Definition).

In the world of TVs, 4K resolution has been the standard for many years now. Nowadays, even entry-level TVs support 4K resolution, with only a handful of low-budget options still using Full HD panels.

In 2019, we saw the introduction of some commercial 8K TVs. However, given the extremely high price of such TVs and the current lack of any 8K content, the technology probably won't be relevant for years to come.

OLED - OLED displays are capable of reproducing higher contrast scenes than conventional LED displays, but are prone to image retention issues and can't reach the same peak brightness. Unlike conventional LED panels, where pixels are lit by an LED backlight, OLED panels consist of pixels that emit their own light. The main strength of such panels is the ability to completely turn off individual pixels without affecting the brightness of the pixels around them which produces "true" blacks and results in images with very high contrast.

Due to their organic nature, OLED panels are prone to temporary or even permanent image retention caused by pixels displaying the same color for an extended period of time. However, most post-2018 OLED TVs are packed with image retention prevention technologies that substantially lower the chances of such issues.

HDR - HDR (high dynamic range) is a combination of display technologies that enhances the content quality by enabling more vivid and higher contrast images than what has previously been possible. Compared to standard dynamic range TVs, HDR-enabled TVs produce deeper blacks, more vivid colors, and much brighter highlights. They achieve that by taking advantage of more complex video signals and come with panels that can reach higher luminance and have more color volume than conventional ones. HDR TVs are typically more expensive than standard dynamic range ones.

HDR has been around long enough for major media streaming and consumption services to provide a wide selection of HDR-compliant content, which is necessary to be able to take advantage of HDR-enabled TVs. Currently, there are 4 major formats of HDR - Dolby Vision, HDR10, HDR10+, and Hybrid Log-Gamma.

Dolby Vision - Dolby Vision support lets TVs display HDR content encoded in the Dolby Vision format. Dolby Vision is mostly supported by mid-range and high-end TVs because it costs more to implement than competitive standards. It's an HDR format that delivers the best overall image quality since, unlike its open-source alternatives, it uses dynamic metadata, has a higher-peak luminosity, and more color depth.

However, due to its proprietary nature, Dolby Vision isn't as widely used by TV manufacturers as its open-source alternatives - HDR10, and HDR10+. In spite of this, it has been adopted by multiple major content streaming services like Netflix and Amazon Prime.

HDR10 - HDR10 support lets a TV display content that's encoded in accordance with the HDR10 standard. Even some entry-level 4K TVs are compatible with this standard due to its undemanding specifications and open-source nature.
As of 2020, HDR10 is the most widespread HDR format on the market. The overwhelming majority of HDR-compatible content comes in HDR10 - it has even been adopted by the latest gaming consoles. This is mainly the case because competing HDR formats are proprietary in nature and therefore more expensive to implement.

However, the image quality that's achievable with HDR10 or HDR10+ isn't as good as what's possible with their main competitor, Dolby Vision. Nonetheless, consuming proper HDR content is still a massive upgrade over standard dynamic range, no matter the format.

HDR10+ - Support for HDR10+ enables a TV to display content encoded in HDR10+. Even though very few sources currently offer content that's HDR10+ compliant, it's expected that the situation will improve over the next couple of years.

HDR10+ is an HDR standard that combines the main strengths of HDR10 and Dolby Vision. Developed by Samsung, HDR10+ merges the royalty-free, open-source nature of HDR10 with the image quality of Dolby Vision. While it's not as widespread as the HDR10 or Dolby Vision standards, it's supported by Blu-ray and Amazon Prime Video.

HLG - Support for the Hybrid Log-Gamma standard enables TVs to display HDR-compliant content that's found on traditional broadcasting networks. Its biggest advantage is that it combines SDR (standard dynamic range) and HDR into one signal. That means that the same content can be enjoyed on both TVs that support HDR and those that don't.

HLG is an HDR standard that has been implemented by broadcasting companies in order to enhance the quality of their content. It's open-source and backward-compatible with traditional content. As of 2020, HLG isn't as widespread as HDR10 or Dolby Vision. The only major streaming services that currently support HLG are BBC's iPlayer and YouTube.
Find the best product and price, effortlessly.
Discover deals on
products actually worth buying
the best products
We do the research. You save the money.