Here's the Deal
Slant is powered by a community that helps you make informed decisions. Tell us what you're passionate about to get your personalized feed and help others.
In this co-operative game from designer Ignacy Trzewiczek, 1 to 4 players must work together to explore a deserted island and find a way to survive as they battle wild animals, the weather, or even cannibals.
Play Time
60 - 120 Minutes
Pros


Pro

Gameplay mechanics combine with theme for a deeply immersive experience
Whether trying to outrun a volcano, defeat tribes of cannibals, or removing a curse from the island; each scenario requires you to play the game subtly different in a way that makes the theme come alive. For example, while fleeing from the volcano players are highly encouraged to use the exploration icon to uncover more and more tiles to stay ahead of the encroaching lava, while in a different scenario gathering wood becomes the priority and players shift to using the resource gathering option more often. This leads to each scenario feeling unique and really drawing players into each one of them.


Pro

Multiple scenarios and variable set-up lead to great replayability
With 6 scenarios included in the base game (more in expansions), and each scenario having a variable setup that can lead to very different gameplay experiences, Robinson Crusoe is a game that you will keep coming back to time and time again. Every game will be completely different, not only because you can pick a different class and different strategy, but also because of the many variables and randomness of the game.





Know any positive aspects of this option?
Cons

While the rules aren't necessarily difficult, there are a lot of things you must remember and keep track of when playing Robinson Crusoe. You must essentially memorize what areas provide what type of resources, what are the conditions of getting resources or creating stuff, how to resolve specific plays, how dice and event cards work, etc. While you're struggling to survive you must constantly remind yourself of the main objective that you must achieve to win. There's a lot of thinking about what the least worst move out of the bunch is.

Robinson Crusoe is a prime example of a game that suffers from the alpha-gamer issue. Each round begins with players talking to each other and deciding what they're going to do, and it's easy for the experienced gamer to dictate what everyone must do because this is a game that has a pretty steep learning curve.

Con

Many small components
There are a lot of tiny wooden cubes and tokens in Robinson Crusoe, and this can lead to multiple problems. Firstly, if you accidentally happen to drop something, then it might be difficult to find if it rolls in a corner or a less visible place. Secondly, the gameboard is very vulnerable to movement, so you might displace some valuable information, for example, the cube tracking your current health points. Lastly, the number of components lead to a long setup / takedown time.
Know any negative aspects of this option?
Recommendations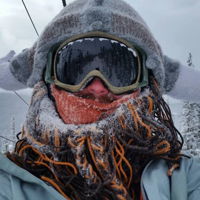 Adrian
Contributor for 6 years
Comments
See Product Page for "Robinson Crusoe: Adventures on the Cursed Island"